PBT25® is of a design based on experience, with maximum quality and economy. Due its modular build type it can re-tooled quickly for new work processes. The comparatively high drive rollers allow the bending of profiles up to a height of 300 mm as standard and in maximum quality.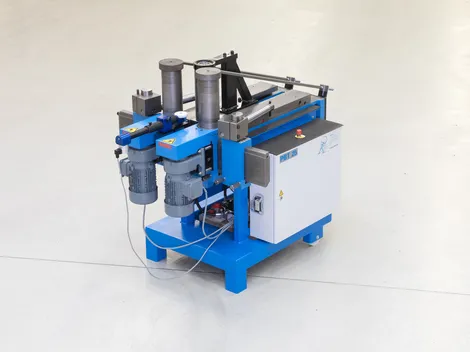 Features
Continuously adjustable front roller distance: minimal 200 mm – this provides for smallest radii with perfect transitions!
All 3 rollers driven by powerful, clean and low noise electric motors up to 22 rpm
Minimum oil volume 18 litres
Roller support / steady rest for all 3 shafts as series standard without any additional charge
300 mm high rollers
Reduced risk of accidents as bending direction away from operator
Ergonomic working conditions
Movable with drawbar
Working on both sides possible: at the front: rolling; at the rear: chamfering
High-performance control systems
Consultation, training and commissioning free of charge in our works
Excellent price/performance ratio
Swiss quality
Lower maintenance costs
Control systems
Application areas
Due to their versatility the PBT25 has a wide range of application areas. The machine provides valuable services in innumerable sectors of industry (automotive engineering, conveyor technology, metal construction, metalworking, steel construction, space technology, etc.).