PBT25®
PBT's High-Performance Profile Bending Machine
Proven Across a Range of Industries
More Information

Customer-driven, industry-proven
The capability of the PBT25® profile bending machine was developed with considerable input from experienced PBT customers. This versatile profile bending machine features master Swiss craftsmanship and modular tooling that makes it simple to convert to new work processes quickly and efficiently. The machine has three individually-driven and infinitely adjustable rollers which can bend large cross-sections, including part profiles up to 11.81" (300mm) in height. The machine's flexible configuration allows operators to work from both sides. Modern ergonomic design makes the PBT25® comfortable to operate, while PBT's powerful CNC control systems keep operation simple and smooth for operators of any experience level.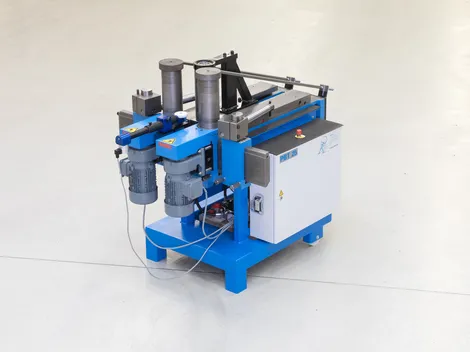 Features
Continuously adjustable front roller distance: minimal 200 mm, providing the smallest radii and perfect transitions
All three rollers are driven by powerful, clean and low-noise electric motors up to 22 rpm
Minimum oil volume 18 litres
Roller support / steady rest for all three shafts is standard without any additional cost
300 mm high rollers
Reduced risk of accidents as bending direction away from operator
Ergonomic working conditions
Movable with drawbar
Working on both sides is possible: at the front: rolling; at the rear: chamfering
High-performance control systems
Consultation, training and commissioning are available from Boschert USA
Excellent price/performance ratio
Swiss quality
Lower maintenance costs
Control systems
Application areas
Due to tits versatility the PBT25 has a wide range of application areas. The machine provides valuable services in innumerable sectors of industry (automotive engineering, aerospace, materials handling/conveyor technology, metal construction, architectural paneling and lighting, window construction, metalworking, steel construction and space technology).