PBT's Powerful Profile Bending Machine PBT35 Servo Wide®
First-Class Performance Without Compromise
More Information

Highest quality & energy efficiency
Uncompromising performance and Swiss quality characterize the PBT 35 Servo Wide® profile bending machine. The PBT35 Servo Wide® designed, like the PBT25®, for the highest quality and energy-saving cost efficiency. But the PBT35 Servo® bender takes these characteristics one step further. Powerful servo motors and continuously adjustable front roller distance enables users to bend everything from very large steel profiles to small extruded shapes, with accurate radii and perfect transitions. With its servo drive the PBT35 Servo Wide® is without compromise in performance and quality, offers major power reserves and a wide range of technical possibilities.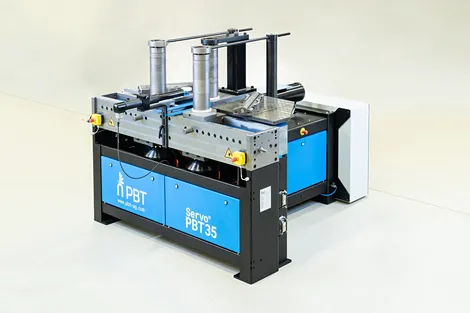 Powerful and precise
The PBT35 Servo Wide® has the same tool mounting (105mm) as the PBT25® and was developed to bend profiles where a higher application of force is required.
In the same way as all PBT machines, the PBT35 Servo Wide® is controlled by highly advanced control systems and can be extended by innovative components. In this way an optimum need-based operation and maximum productivity is ensured.
Continuously adjustable front roller distance: minimum 360 mm
All three rollers are driven by powerful servo motors
400 mm high rollers
The bending direction away from operator to reduce the risk of accidents
Consultation, training and commissioning are available from Boschert USA
Control systems
PBT35 Servo®
Energy-saving and ergonomic
The PBT35 Servo® is driven by innovative servo technology, unparalleled worldwide, which offers many advantages:
70% energy savings
100% torque, independent of speed
Increase in performance and precision
Ergonomic and extremely low noise
Clean and efficient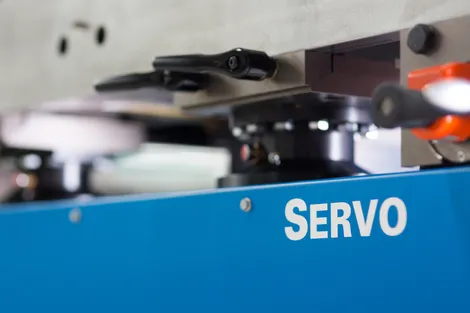 Application areas
The application options for the PBT35 Servo® are unlimited. They are being universally used and have become indispensable across many industries, including equipment engineering, automotive engineering, conveyor technology, metal construction and steel construction.