Efficient and high-precision profile processing with pipe bending machines from PBT
With a wide range of functions, automated processes and a flexible and efficient production method, our tube bending machines meet even the highest demands in production technology. The powerful and versatile machines are designed for the processing of tubular as well as any kind of special profiles in the most diverse shapes and diameters. In a particularly economical, efficient and highly precise manner, they give your profiles the exact radius and angle you require and, thanks to the computer-aided CNC control, fit seamlessly into your production chain.
From the planning of individual solutions to the development and final commissioning of your pipe bending machine, we support you in an advisory and executive capacity in all project phases. The focus of our work is on a demand-oriented approach as well as maximum functionality and precision in the design and manufacture of your special tools and the pipe bending machine.

Phone 0041 – (0)71 633 21 51
E-Mail email hidden; JavaScript is required
Tel.: +49 – 271 25049 0
E-Mail: email hidden; JavaScript is required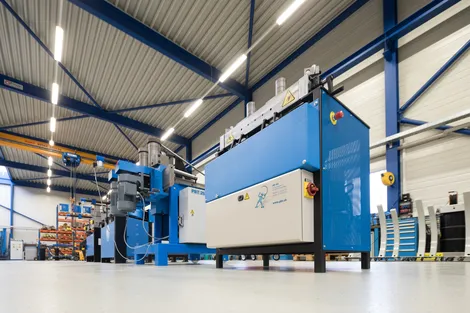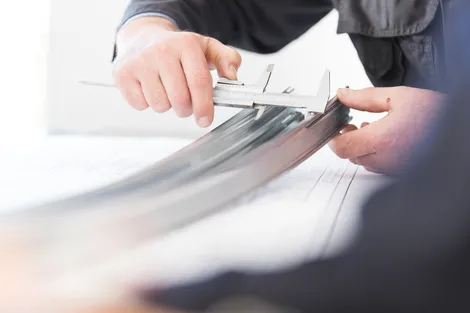 The impressive functionality of the PBT pipe bending machines
A special flexibility, an efficient mode of operation as well as an uncomplicated operation characterise the functioning of the PBT pipe bending machines. Depending on the wall thickness, the selected material and the desired bending radius, our models cover a particularly wide range of applications for pipes with diameters from five to 300 millimetres. We keep various standard sizes of tube rollers in stock and can produce any other special size required within four weeks.
Without mandrels, our pipe bending machines can achieve bending radii that are at least five times the tube diameter. A coupled mandrel system, which we offer as a manual version or as a CNC-controlled variant with integrated booster, also makes small bending radii of up to two and a half times the diameter possible. Profiles that are very fragile due to their thin-walled construction, the mandrel of the mandrel unit, which is coupled with our pipe bending machines, protects the profile from collapsing.

Your contact persons
You have questions and would like to speak to one of our contact persons?
Simple and efficient automation - pipe bending machines with CNC control
Our modern, CNC-controlled pipe bending machines achieve optimum productivity and flexibility through computer-assisted automation. The use of professional software with a comprehensible user interface enables automatic processing procedures that follow specific specifications. Optimised production times as well as the simple implementation of complex geometries and sequences are the result of the automated processes. In series production, a CNC-controlled PBT pipe bending machine can also be connected to other machines used in the same production chain. In this way, there is a seamless transition between the individual production stations, which ultimately results in a complication-free and efficient functioning of the production chain.
Our pipe bending machines combine these decisive advantages with uncomplicated programming and ease of operation. Thanks to a clear and intuitive interface design, every tube bending machine from PBT can be programmed quickly and easily, even without specific programming knowledge. Our competent and experienced team will teach you the detailed procedure for CNC programming as part of a training course, so that you can control and monitor your automated pipe bending machine yourself.

Modular, expandable and individual - the advantages of a PBT pipe bending machine.
The extraordinary efficiency of our profile and pipe bending machines is not only due to the use of modern technologies such as automated CNC control, but also to their special flexibility. Depending on the desired function, our pipe bending machines allow an uncomplicated exchange of tools. Special tools for profiles made of steel, stainless steel and aluminium can also be used. Numerous additional devices and extensions also allow flexible adaptation or subsequent upgrading, taking into account your individual requirement profile.
Last but not least, if you wish, we can also meet your special needs by planning, manufacturing and commissioning a customised special machine that is precisely tailored to the services you require. Whether minor adaptations and extensions or a completely individually developed tube bending machine - we accompany your project with the greatest care and certainty through a conception and implementation that meets your needs. Of course, we will introduce your personnel to the functioning of the pipe bending machine in detail within the scope of a training course and support you during the final commissioning.
From pipeline construction to public space architecture - application areas of the pipe bending machine
Our modern and efficient pipe bending machines are used in a wide variety of industries and manufacturing areas to produce high-precision processed components. A classic area of application is the shaping of tubular supply lines that serve the professional connection of water, heating and electricity. A reliable and fast pipe bending machine from PBT enables space-saving insertion of the supply pipes, which is also of essential importance in small and closed systems, for example in the automotive or aerospace industry.
Works of art are produced in all shapes and sizes with our profiles. The wide range of applications for our pipe bending machines is completed by architectural objects in public spaces. Frames and brackets for traffic and information signs, functional bicycle stands with a modern design as well as bollards and handles are among the objects for whose production a pipe bending machine is used. No matter for which area of application you need a PBT pipe bending machine, through a joint needs analysis we will find the right model for you from our versatile portfolio or support you with an individual customised production.
Here is a selection of our customers (H3)
Agrikon, Airbus, Albixon, Alcan, Asas, Audi, Barnshaws, Bestbend, Biegetechnik Steinrücken, BMS, Brökelmann Aluminium, Bürstner, CWA Constructions, Die Bahn, esa, Fendt, Fritzmeier, HMT, Holden, Hydro, Hyundai, Jaguar, Jansen, Kersten Europe, Linde, Lugstein, LS Lederer, Mercedes-Benz, Metallgestaltung Eickhoff, Obru, Pemat, Porsche, Proas, Rexroth, Rimowa, Ronal Group, Sadef, SAPA, Schaeffler Group, Schüco, Siemens, Sjolund A/S, Still, Thyssen Krupp, Voest Alpine, Volkswagen, Walter Mauser, Welser Profile, XAL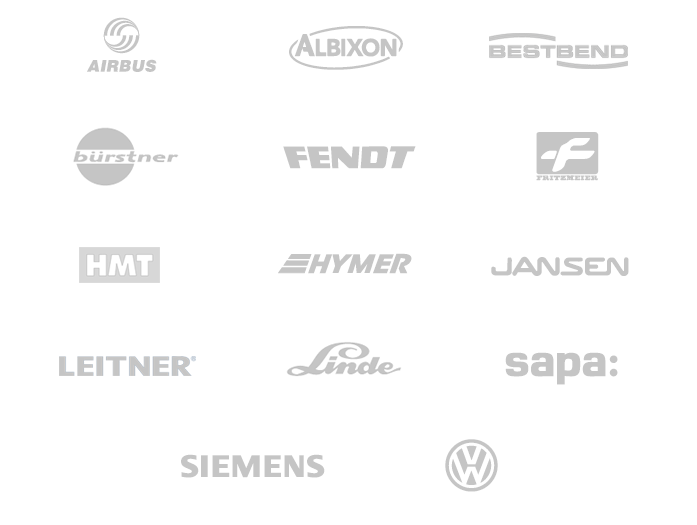 PBT tube bending machines - sophisticated solutions from Switzerland
All over the world, successful companies from a wide range of industries rely on our pipe bending machines to make their production processes economical, efficient and reliable. If you are interested in one of our models or would like a customised pipe bending machine, our competent and highly qualified team will be happy to assist you by phone or e-mail.
On request, we can also demonstrate the precise performance, impressive flexibility and ease of operation of our pipe bending machines in an individual demonstration. We look forward to hearing from you!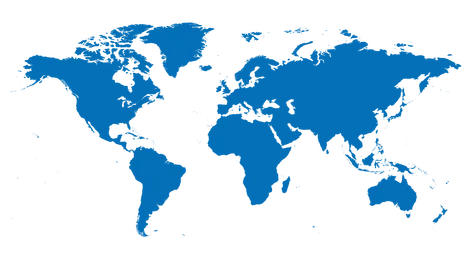 More about PBT and the comprehensive portfolio