Small machines and larger systems for bending tubes are part of the equipment of many companies from all kinds of industries. For example, in vehicle construction, materials handling or even in the aerospace industry - the bending of profiles is indispensable in many respects. As a common variant, the hydraulic tube bending machine in particular is common in almost every industry. It handles both the simplest bending processes and the complex shaping of large workpieces, whether aluminium, copper or stainless steel. For all these projects, Profile Bending Technology AG takes a pioneering position. With its machines, it offers both the highest quality for precise results and impressive innovations for special requirements. While there was virtually no alternative to hydraulic tube bending machines, the Swiss company developed a unique servo drive as an extension to its product range. In the meantime, the company has a tradition of more than 25 years and, in addition to its main locations in Germany and Switzerland, is represented worldwide.
Tel.: 0041 – (0)71 633 21 51
E-Mail: email hidden; JavaScript is required
Tel.: +49 – 271 25049 0
E-Mail: email hidden; JavaScript is required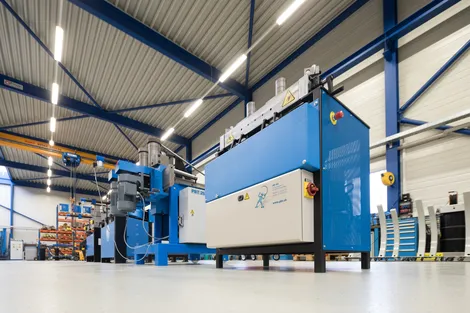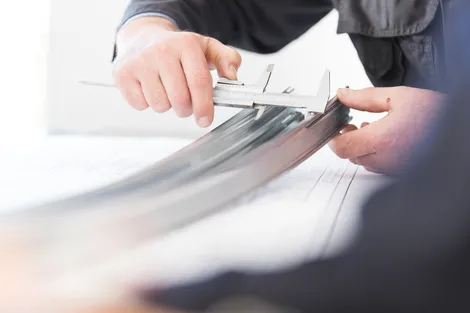 Rohrbiegemaschinen in unterschiedlicher Komplexität
All in all, there are several different PBT AG machines to choose from. This ranges over five variants from a compact bending machine to the absolutely high-quality version for demanding bending processes on larger workpieces. In addition, the range includes both manual and digital controls, the application or necessity of which depends on the intended use or the selected model respectively. In any case, PBT AG tube bending machines can be used to achieve exact precision and minimal deviations for large batches. Those interested in making a purchase, but who do not yet have any clear requirements, are recommended to have a look at the product portfolio, whereby a distinction must be made between purely hydraulic tube bending machines and those with servo hydraulics.
Hydraulische Rohrbiegemaschinen
- Tube bending machine ARKUS12, 7 litres hydraulic oil capacity:
The Arkus12 is the most compact hydraulic tube bending machine in the range and is particularly suitable for forming smaller tubes made of aluminium or steel. Accordingly, it is also used where space is limited. Apart from that, the infinitely variable adjustment of the roller distance during bending allows small radii from 35mm without causing kinks at up to 12 tons of pressure. Thanks to the compact design, the relatively light weight of 540 kg allows transport with a lift truck.
- Tube bending machine BENDO, 18 litres hydraulic oil capacity:
With 20 tonnes, the tube bending machine Bendo achieves almost twice as much pressure output as the Arkus12. Despite this higher output, the minimum front roller distance of 280 mm is only slightly higher, so that small radii are also possible with a precise bending process. The weight of 1050 kg is also still suitable for transport and placement using a lift truck. Due to its high performance, the Bendo is particularly suitable for industrial and series production.
- Pipe bending machine PBT25, 17 litres hydraulic oil capacity:
The PBT25 is the purely hydraulic tube bending machine for the highest demands. This is supported by the powerful pressure output of 27 tonnes and a minimum front roller distance of only 200 mm, which is infinitely adjustable up to 1000 mm. In addition, thanks to a roller height of 300 mm, it offers the largest tool holder. Despite this performance and flexibility, the PBT25 is only slightly larger in size and, with a weight of 1150 kg, can still be moved with a lift truck.
Tube bending machines with servo drive
- Tube bending machine PBT35 Servo Wide, 9 litres hydraulic oil capacity:
As the first tube bending machine with servo hydraulics, the PBT35 was a world first and is still an example of high performance with absolute precision. The drive generates 35 tonnes of pressure, while the distance between the front rollers is infinitely variable from 360 mm to 1400 mm. Accordingly, there is a slightly larger minimum radius here than with the hydraulic tube bending machines. The PBT25 Servo is also logically heavier. 2250 kg make a crane or forklift necessary for transport and placement.
- HELIX Servo tube bending machine, 9 litres of hydraulic oil:
The HELIX Servo is the premium model of all tube bending machines. With a pressure capacity of 65 tonnes, it offers the highest performance, but without lacking the necessary accuracy. However, the latter is clearly oriented towards larger workpieces such as support structures made of robust stainless steel. The minimum spacing of the front rollers of 630 mm and the height of all rollers of 500 mm are suitable for these. Nevertheless, as with all models, the X-axis can be positioned with an accuracy of 0.01 mm. Due to its 5500 kg weight, the only transport option for the HELIX Servo is a crane.
Hydraulic tube bending machine or servo drive?
As you can see, interested parties from all industries can choose between tube bending machines with purely hydraulic or servo drive. Apart from the budget, the decision is also a matter of requirements. In any case, the hydraulic profile bending machines from PBT AG enable the smallest radii without kinking, so that enormous precision is possible even with a higher pressure capacity of up to 27 tonnes. However, this is also associated with more oil consumption and maintenance, as well as even more energy consumption. The servo-driven versions, on the other hand, achieve energy savings of about 70 per cent, operate more quietly and cleanly and, at 9 litres of hydraulic oil each, consume almost as much as the most compact hydraulic tube bending machine. Last but not least, the differentiation also concerns the control options. All of the purely hydraulic machines can be operated either manually or via tablet with one of the tablet systems as well as the PC400 control system. The servo drives, on the other hand, required the PC400 control, which is, however, also the highest-quality and most advantageous option.
Free training - also for customised products
The mentioned variants of the control system offer, starting from the basic manual operation, more and more variety and thus fulfil very individual requirements. Where complex bending processes are to take place, the PC400 system is necessary, which is also predestined for series production in particular. For single-item production in a single operation, simpler operating variants make sense. Regardless of which option you choose, you will always benefit from free training by PBT AG. This takes place on one day in one of the company's plants and ensures that the responsible employees are intensively trained to work with hydraulic tube bending machines or servo drives. Incidentally, this applies in particular to individual designs. This is because, in addition to the standard models already listed, the product range also includes other profile bending machines made to customer specifications. Additional equipment and extensions can also play a role. For example, mandrel bending devices are useful if thin-walled tubes are to be bent. The accessories and options available individually can be enquired about at any time without obligation.
Comprehensive service for every bending machine
The design of each individual tube bending machine is always carried out in consultation with the customer. This means that there are no ambiguities even during the planning and alignment stages, and all special requests are fulfilled by the time the machine is trained and commissioned. Any questions and problems can, of course, always be answered or solved in the further course of time, while maintenance is also part of PBT AG's service. In this way, the company wants to guarantee absolute satisfaction, regardless of whether it is a compact hydraulic tube bending machine or the complex HELIX model with servo drive.
Here is a selection of our customers (H3)
Agrikon, Airbus, Albixon, Alcan, Asas, Audi, Barnshaws, Bestbend, Biegetechnik Steinrücken, BMS, Brökelmann Aluminium, Bürstner, CWA Constructions, Die Bahn, esa, Fendt, Fritzmeier, HMT, Holden, Hydro, Hyundai, Jaguar, Jansen, Kersten Europe, Linde, Lugstein, LS Lederer, Mercedes-Benz, Metallgestaltung Eickhoff, Obru, Pemat, Porsche, Proas, Rexroth, Rimowa, Ronal Group, Sadef, SAPA, Schaeffler Group, Schüco, Siemens, Sjolund A/S, Still, Thyssen Krupp, Voest Alpine, Volkswagen, Walter Mauser, Welser Profile, XAL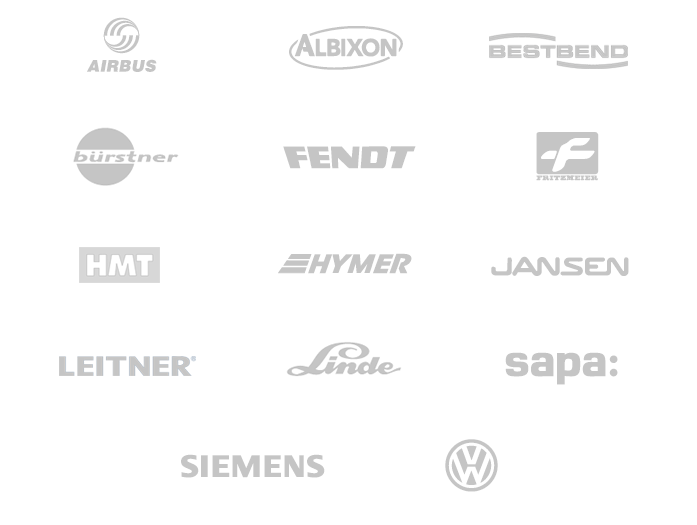 PBT tube bending machines - sophisticated solutions from Switzerland
All over the world, successful companies from a wide range of industries rely on our pipe bending machines to make their production processes economical, efficient and reliable. If you are interested in one of our models or would like a customised pipe bending machine, our competent and highly qualified team will be happy to assist you by phone or e-mail.
On request, we can also demonstrate the precise performance, impressive flexibility and ease of operation of our pipe bending machines in an individual demonstration. We look forward to hearing from you!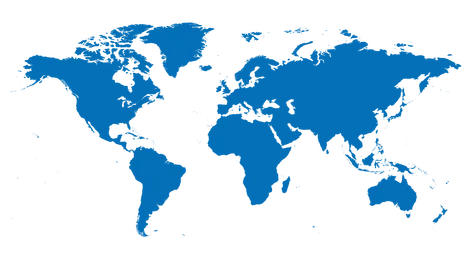 More about PBT and the comprehensive portfolio