Metal tubes and profiles are used in numerous sectors and bent elements are often required. The forming and bending of such tubes and profiles is therefore an elementary aspect in industry, materials handling, window and façade construction and many other sectors up to aerospace, equally in processing or production. This diversity also includes complex bending processes, which are highly demanding and require very special tools and equipment. This also applies to thin-walled or even particularly fragile profiles and tubes. Tube bending machines from Profile Bending Technology AG are the professional means to an end for all such processes. The Swiss company is one of the world's leading representatives of the industry and convinces with a portfolio that is equally made up of experience and tradition as well as innovations and the highest quality.
Tel.: 0041 – (0)71 633 21 51
E-Mail: email hidden; JavaScript is required
Tel.: +49 – 271 25049 0
E-Mail: email hidden; JavaScript is required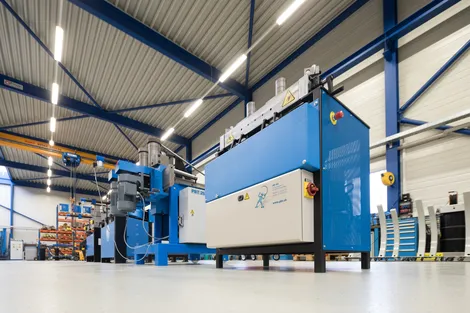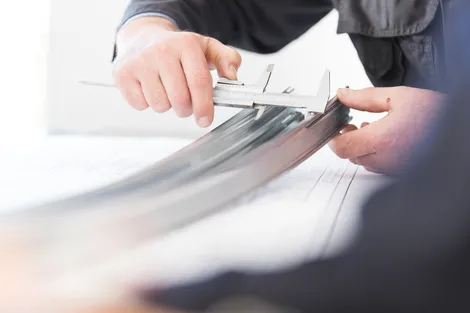 From the tube bending machine to the mandrel bending machine
All of the tube bending machines presented by PBT AG are state-of-the-art three-roller bending machines. These can optionally be purchased directly in standard series production. In addition, however, the company offers a range of accessories and individual options. In particular, this concerns so-called mandrel bending devices. The extended mandrel bending machines are especially suitable for bending thin-walled tubes or those that are particularly fragile. Despite these properties, a mandrel bending machine then continues to produce clean, tight bending radii of up to two and a half times the respective diameter of the profile. Strictly speaking, the extension involves a set-up consisting of a guided mandrel by mandrel bar and a coupled booster, whereby PBT AG offers different variants: On the one hand, manual mandrel systems without booster, or CNC-controlled mandrel bending device with adjustable, infinitely variable pressure force and profile feed unit in 3, 4 or 6 m versions, as well as the MBD200 mandrel bending device with maximum pressure force of 200 KN, 6 m profile feed unit and mandrel retraction as well as mandrel lubrication included. Thanks to its technology, each mandrel bending machine stands for slip-free bending and enables perfect results in one pass, even with hollow chamber profiles.
Strong range of profile bending machines
A look at the PBT AG product range reveals a series of machines of varying complexity for bending tubes and profiles. These are suitable for use with all common materials, i.e. in particular steel, aluminium and copper. The variation basically ranges from compact, relatively mobile, standard machines to complex special machines according to customer requirements for the demand for maximum performance - for example, for the processing of larger profile cross-sections and demanding bending solutions. In addition, the company's performance and product spectrum includes both manual control and software-controlled operation, depending on the model. In any case, the available systems consistently stand for modern technology and exact precision, even when used in batches. In terms of price-performance ratio and performance, PBT AG offers the following tube bending machines:
- Tube bending machine ARKUS12, 540 kg weight:
The smallest machine of the company, the ARKUS12, has a pressure capacity of 12 tonnes and is designed for profiles with an edge length of 110 mm as standard. Optionally, rollers with 220 mm can also be used. From 256 mm (optionally 80 mm) and up to 518 mm, the front rollers can be continuously spaced so that, with an additional bending attachment, the smallest radii of up to R35 mm can be achieved. As the most compact and correspondingly lightest variant, the ARKUS12 can be moved by means of a lift truck.
- Tube bending machine BENDO, 1050 kg weight:
With almost twice the weight of the ARKUS12, the BENDO also achieves almost twice the output. The machine makes it possible to bend pipes with a pressure capacity of up to 20 tonnes. The standard rollers are for edge lengths up to 200 mm and a distance between the front rollers from 280 mm for also very small radii when bending. The shaft diameter of the rollers is 65 mm. Transport is also possible here with the help of a lift truck.
- Tube bending machine PBT25, 1150 kg weight:
With 27 tonnes of pressure power, the PBT25 is the strongest tube bending machine without servo drive. Corresponding to this power, the 300 mm high rollers are also made for profiles with 105 mm roller diameter, while the distance between the front rollers is even only 200 mm. Smallest bending radii with large profiles can thus be realised. Thus, the PBT25 combines flexibility and highest performance. Despite this variety of applications and the enormous weight, the machine can still be moved with a lift truck.
- PBT35 Servo Wide tube bending machine, 2250 kg weight:
With the PBT35, the company introduced the first tube bending machine with full servo drive at the time. This technology is still considered absolutely innovative. With this drive, the machine achieves a pressure capacity of 35 tonnes, while 70% of energy is saved and the oil volume is low at 9 litres. At the same time, the 400 mm high rollers with a minimum distance of 360 mm on the Y-axis still allow a small bending radius even with a roller diameter of 105 mm. However, transporting the machine requires a forklift or a crane due to its heavy weight.
- Tube bending machine HELIX Servo, 5500 kg weight:
With the HELIX Servo, PBT AG offers its premium model. The machine with integral servo drive generates a full 65 tonnes of pressure and enables the bending of profiles with a diameter of up to 500 mm. The front roller distance is at least 630 mm. According to these values, the HELIX Servo is used especially for large workpieces up to beam constructions. Nevertheless, an oil volume of 9 litres and 70% energy savings thanks to the drive also apply here. However, only a crane comes into question for the placement of the machine.
The arguments for a mandrel bending machine from PBT AG
The mandrel bending devices and other extensions and customisation options are offered by the Swiss company with over 25 years of experience in the industry. Buyers of a mandrel bending machine benefit accordingly from exemplary know-how and reliable quality. An essential point here is the service. After all, it is not least the training offered by PBT AG for each machine in the nearest factory that transfers the necessary competence to the buyers and ultimate users. Such training takes place on one day and in any case before the commissioning of a new mandrel bending machine. The final focus is also on the control system used in each case.
Individual solutions for the highest demands
The four different operating options for the systems are part of the company's special product range. This includes manual control as well as two tablet controls and the PC400 system as the necessary control for machines with servo drives. A CNC-controlled mandrel system requires the PC400 software. The individualisation to the mandrel bending machine or other accessories can play an important role for the respective operation and its possibilities. This is of course dealt with intensively during training or possible later expansion, so that no questions remain unanswered and all requirements are met.
Request an overview without obligation
As large as the variety of products and services of PBT AG around mandrel bending machine, servo drive, PC400 etc. is, a non-binding enquiry via e-mail or telephone is recommended. Interested parties will then receive a clear presentation of the portfolio or an idea of the possible options for the respective requirements at any time. Even for absolutely specific projects, the Swiss company can realise a tailor-made mandrel bending machine with the necessary accessories. In any case, the basic service also applies here: customer-oriented communication from planning to commissioning and subsequent regular maintenance. In this way, the advantages of PBT AG will continue to apply to every bending process in the future: exact precision, consistent reliability and maximum performance thanks to modern technology.
Here is a selection of our customers (H3)
Agrikon, Airbus, Albixon, Alcan, Asas, Audi, Barnshaws, Bestbend, Biegetechnik Steinrücken, BMS, Brökelmann Aluminium, Bürstner, CWA Constructions, Die Bahn, esa, Fendt, Fritzmeier, HMT, Holden, Hydro, Hyundai, Jaguar, Jansen, Kersten Europe, Linde, Lugstein, LS Lederer, Mercedes-Benz, Metallgestaltung Eickhoff, Obru, Pemat, Porsche, Proas, Rexroth, Rimowa, Ronal Group, Sadef, SAPA, Schaeffler Group, Schüco, Siemens, Sjolund A/S, Still, Thyssen Krupp, Voest Alpine, Volkswagen, Walter Mauser, Welser Profile, XAL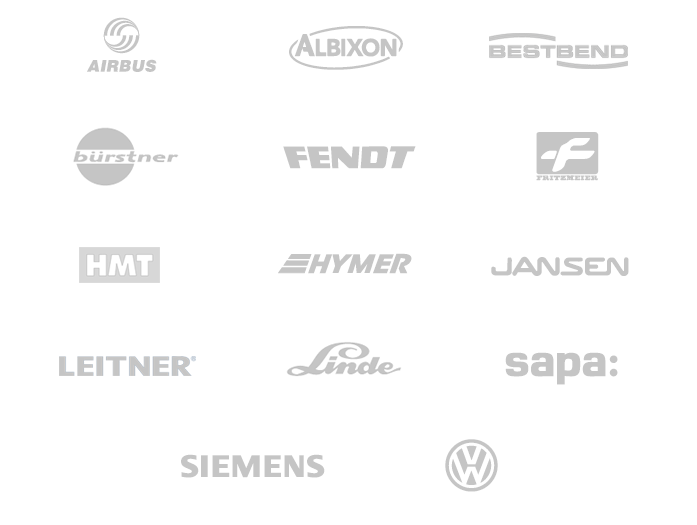 PBT tube bending machines - sophisticated solutions from Switzerland
All over the world, successful companies from a wide range of industries rely on our pipe bending machines to make their production processes economical, efficient and reliable. If you are interested in one of our models or would like a customised pipe bending machine, our competent and highly qualified team will be happy to assist you by phone or e-mail.
On request, we can also demonstrate the precise performance, impressive flexibility and ease of operation of our pipe bending machines in an individual demonstration. We look forward to hearing from you!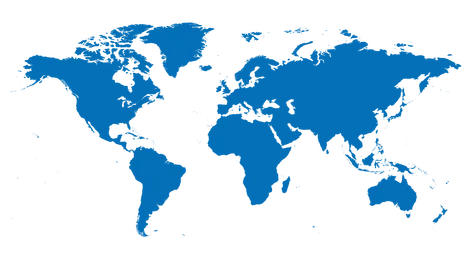 More about PBT and the comprehensive portfolio